2-Year-Olds are delicate . . . Protect your dream at Tapeta™ Farm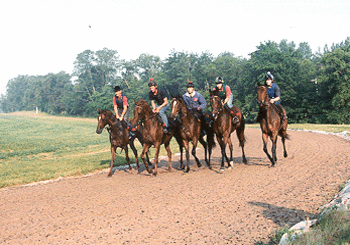 Michael Dickinson and his seven-ingredient surface (which he's patented) was perfected after several years of trial and error - and many dollars. His surface is a mixture of "53% sand, 5% rubber and 42% 'secret recipe.' " While stabled at Fair Hill in Maryland, he worked for years on perfecting his new surface, working on different mixtures in little pots.
When it came time to finally mix up his first sizable batch of material to lay down at Tapeta™, he wound up with "Michaels Mistake." Once it was perfected, the Tapeta™ surface was unlike anything anyone has ever seen. It holds any amount of water that can be put on it and remains fast and dry. It has a spring and give to it that helps strengthen horses' muscles in different ways, much like waling on sand at the beach. There is plenty of "give" to it upon initial impact, then it takes additional muscle power to push off while accelerating over the track. To further work the horse aerobically, the Tapeta™ surface, as well as Dickinson's grass surfaces are on an incline, so the horses are constantly running slightly uphill.
Dr. George Pratt, a professor at MIT, assessed the surface and noted that horses working on the Tapeta™ surface experience one-half the impact as compared to running on a conventional surface. He said "It's like running on a living room rug." Dickinson is so confident of the surface that if a horse has a chip, fracture, or quarter crack while in training at Tapeta™ Farm, he will pay for the surgery to be done at the University of Pennsylvania New Bolton Center.
Report on the Tapeta™ Track by Dr. George Pratt, Professor, MIT
Fantastic. It is like running on a living room rug.
The typical stiffness of a dirt track is 100,000 lbs. per foot.
Tapeta™ was 25,000 lbs. per foot.
Ten successive drops on the same sample did not substantially alter its quality. The first drop was 18,000 lbs. at peak impact force, the third drop was 25,000 lbs and the tenth drop was still only 25,000 lbs.
Water does not make any difference at all. The material does not hold water. Normal conditions = 450 to 650 lbs., wet conditions = 352 to 675 lbs.
The rise of impact: Dirt track = .005 seconds. Tapeta™ = .01 seconds. This measures how quickly the animal feels the shock. The material spreads out that shock. The typical contact time (impact duration time) is:

Dirt = .0070 seconds
Tapeta™ = .0177 seconds
This is a big deal.
The severity index or the GADD Severity Index:
Horses working on the Tapeta™ surface will experience one-half the impact as compared to horses working on a conventional surface.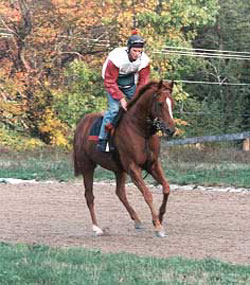 Dr. Pratt has analyzed Beyer Mechanical Properties of racetrack surfaces for 25 years. The Jockey Club and Morris Animal Foundation have sponsored him. The Grayson Foundation and the Jockey Club now sponsor him. His objective is to measure the interaction of a horse and track surface and how the properties of track surfaces affect horses. He measures the safety of the track and the welfare of horses.
Dr. Pratt has measured over 30 tracks in the United States and Canada as well as tracks in England and France. Dr. Pratt has published his findings. His most recent publication is Model for Injury to the Foreleg of the Thoroughbred Racehorse. This was published in Equine Veterinary Journal 1997 and was presented at the International Symposium on Biomechanics in Saumur, France.